Rotor balancing VibroDAQ LT
Device features
Dynamic one and two-plane balancing of rigid rotors

In-place and stand balancing

Machine technical state evaluating basing on vibration measurements

Innovative digital measurements method with 12-bit resolution

Two independent measurement channels

Laser speed sensor

Operation with full range of vibration sensors: accelerometric, velocity and displacement
grinding wheel balancing directly on the grinder

Measured rotational speed range 0,1Hz - 10kHz

Sampling rate range: 200Hz - 200kHz

Buffer length: 128 kbits per channel

Synchronous and asynchronous spectrum analysis

Correction mass decomposition

Multi-language user interface

Strong and esthetic metal case

General characteristic
VibroDAQ LT - advanced measurement and diagnostic system - allows on one-plane and two-plane balancing as well analysis of vibrations. It offers also in-place balancing (field balancing) without disassembling of the rotor what reduce costs and time of operation. VibroDAQ LT is fully digital instrument adjust to work with PC computer via USB interface.
Construction if VibroDAQ LT system is based on FPGA solution and 12-bit A/D converters and allows very high precision measurements. Technical state of the machine may be determined using FFT spectral analysis. Graphically presented results and easy to use software makes balancing process simple and quick.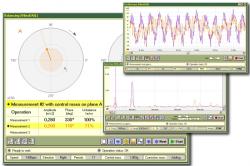 VibroDAQ LT software.
As far as the balancing procedure is concerned, user has to make two(one-plane balancing) or three(two-plane balancing) very simple measurement steps to get proper result and get precise location and size of correction mass.
Whole measurement process is very simplified, so the user is informed what he has to do online on the computer screen. Apart from it, during balancing process user stays informed about all significant measurement parameters like rotational speed, unbalance, angles etc.
Graphical chart of the vibrations and spectrum analysis view is also available. The software provides many additional features: balance tunning - eliminates errors in placement of correction mass, correction mass division for balancing of propeller fans, balancing of grinding wheels directly on the grinder.
So, the VibroDAQ LT system is able to balance almost any rotor regardless of size.
In-place and stand balancing

Two plane balancing on balancing stand.
VibroDAQ LT is universal system which allows balancing in-place and stand balancing as well.
The stand balancing is made on special kind of mechanical stands, especially done for balancing purposes. Balance stands are used in production cycle of different detail like engines, automobile wheels, abrasive wheels, fans and many other parts of different devices.
In-place balancing is made in place of rotor placement during his normal working process. This very accurate way of balancing since it compensates unprecise rotor mounting possibility. So, it eliminates so called technological unbalance, which can be appeared during mounting the rotor in the bearing system.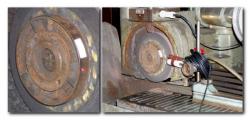 One plane balancing of grinding wheel directly on grinder.
In the case of in-place balancing of abrasive wheels, special kind of balancing head can be used, like it seen on the picture. VibroDAQ LT includes special kind mathematical procedures to speed up the process. In-place balancing saves also time and money needed for disassembling rotor and putting him in balancing stand.
Correction mass vector decomposition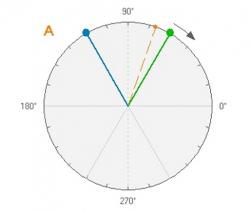 Correction mass vector decomposition.
Correction mass vector dividing is mathematical procedure which divides the correction mass calculated by VibroDAQ LT on given number of parts. This is very useful, during balancing rotors like fans etc., where the placement of correction mass are limited only for blades of the rotor. The number of rotor blades can be defined in the software, so the user has many possibilities of making comfortable mass placement for him. VibroDAQ can calculated mass placement around heavy point and it can calculate the correction drilling also around light point of rotor.
Grinding wheel balancing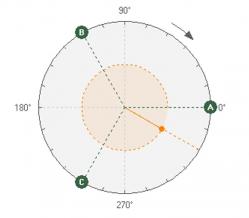 Distribution of balancing weights on balancing head.
VibroDAQ LT is equipped in mathematical procedure allowing cooperation with so called balancing head. Almost every grinding machine is equipped with balancing head, which allows the user easy in-place or stand balancing procedure making. In case of grinding machine in-place balancing process should be applied, so as to be able proper accuracy to be achieved. Normally, the grinding wheels should be balanced by wheel manufacturer, but during grinding process the wheel should balanced by user as well, as often as required to archive proper surface smoothness of material.