Rotor balancing VibroDAQ 4
VibroDAQ 4 is a modern, multiplane balancer designed for balancing any kind of rotor in 1, 2, 3 or 4 correction planes. The device can be used for balancing rotors in their own bearings as well as on the measuring stand. The device is fully universal and allows you to work with rotors of any shape, size and weight. The balancer precisely determines the unbalance value, the angular position and the value of the compensating mass for each of the plane, as well as the rotational speed of the balanced rotor. The balancing result can be checked for compliance with ISO1940. The software provided in the set, except balancing also gives the opportunity to analyze technical condition of machines by analyzing the vibrations occurring on the tested object (FFT). VibroDAQ 4 balancer is fully digital instrument adjust to work with PC computer via USB interface. Apart the software, the user receives all necessary sensors, wires, as well as a number of additional accessories.
Key features
1, 2, 3 or 4 plane balancing of a rotating elements.

Balancing rotors in their own bearings or on stand balancing.

Machine technical state evaluating basing on vibration measurements (FFT).

Innovative digital measurements method with 16-bit resolution.

Four independent measurement channels.

Laser speed sensor.

Temperature measurement in sensor mount place.

Operation with full range of vibration sensors: accelerometric, velocity and displacement. Wide interfaces supported: ICP, current loop, voltage level.

Grinding wheel balancing directly on the grinder.

Measured rotational speed range 0,1Hz - 10kHz.

Sampling rate range: 10Hz - 200kHz.

Buffer length: max. 32k 16-bit samples per channel.

Synchronous and asynchronous spectrum analysis.

Correction mass decomposition.

Connector for automated stand operation.

Status and error LEDs.

Power supply directly from USB port, optional external supplier.

Fast USB 2.0 interface (High speed, Full speed) for short data transfer times.

Multi-language user interface.

Durable and esthetic metal case.

Carry case for instrument and accessories.

General characteristic
In the case of rotors requiring balancing in more than 2 planes, a multiplane dynamic balancer is nesessary. VibroDAQ 4 is a diagnostic system allowing for balancing rotors in 1, 2, 3 and 4 planes.
Small size and the ability to work with any computer through USB, allows to use VibroDAQ 4 as a portable tool for balancing rotors in their own bearings. Balancing a rotor on specialized balancing stand is also possible. VibroDAQ 4 supports any type of balancing stand. It can be used for example as measurement system on an old, mechanically efficient stand on which the original measuring system has been damaged. In practice, the user receives a device with an unlimited balancing possibilities of different kind of rotors which can be used in a portable or stationary way.

VibroDAQ 4 is a digital device. The construction of the balancing tool is based on the programmable FPGA structure and 16-bit ADC converters. This ensures flexibility and high precision of measurements.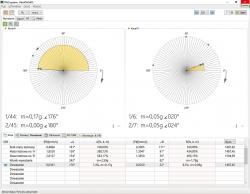 Balancing the rotating parts with the VibroDAQ 4 balancer is fast and effective. DAQ software has many additional functions for example: compensation mass splitting (usefull for balancing rotors like fans etc.) or grinding wheels balancing directly on the grinder (equipped with balancing head with 2, 3 or 4 balancing masses).

The system allows for analysis of technical condition of machines through selective vibration measurements and band measurements individually defined by the user (FFT).

The VibroDAQ 4 balancer can work with any PC computer equipped with a USB port. Operation of the device is provided by the software that is included in standard VibroDAQ 4 set. The user interface is designed in a transparent and ergonomic way. All performed measurements and their results are presented in graphic and text form. In the case of balancing, the whole process is reduced to several measuments (two for 1 plane balancing, three for 2 plane balancing and so on).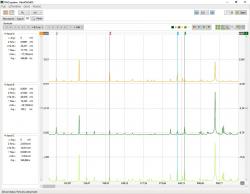 During balancing, the user is on-line informed about all relevant parameters such as rotor speed, the actual unbalance value and its angular position for each of the planes. An extremely useful function is FFT. Skilful use of this function allows to balance a rotor in case when the vibrations coming from the diagnosed rotor are disturbed by vibrations coming from other elements operating at similar frequency. The software also allows you to observe the amplitude of vibration in time. The measurement results can be recorded on the computer hard disk for analysis or archiving.

VibroDAQ 4 can be adapted to the specific needs of a customer. For example, the system can be built on a specific machine for continuous vibration monitoring and inform about exceeding vibration values.
In-place and stand balancing
VibroDAQ 4 is an universal system for dynamic balancing on a specially designed mechanical stands or directly on the machine without disassembling balanced rotor.

Balancing of rotors on a mechanical stand is necessary at the production stage, (when a large series of identical elements are controlled) or in case when access to the rotor is difficult or impossible. This method can also be used to check unbalance at low rotor speed, for example after renovation work, when there is a risk that there is a big unbalance that can destroy the machine after the rotor will be introduced into nominal rotation speed.

The second method of balancing - in the own rotor bearing - should be considered as the most accurate. It allows to balance a rotor at nominal speed and can be used for precise balancing. This method eliminates technological unbalance that may appears at the assembly stage of the rotor. Balancing in the own rotor bearing may not work for machines where many rotors rotate at the same speed.
Correction mass vector decomposition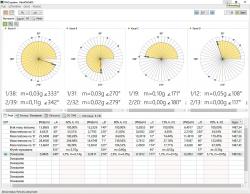 Correction mass vector dividing is mathematical procedure which divides the correction mass calculated by VibroDAQ 4 on given number of parts. This is very useful, during balancing rotors like fans etc., where the placement of correction mass are limited only for blades of the rotor. The number of rotor blades can be defined in the software, so the user has many possibilities of making comfortable mass placement for him. VibroDAQ 4 can calculate mass placement around heavy point and it can calculate the correction drilling also around light point of rotor.
Grinding wheel balancing
"Balancing head" mode can be used for balancing grinding wheels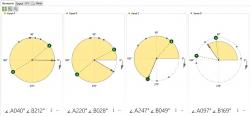 directly on the grinder. Such head consists of two, three or four movable elements (masses, "stones"). These elements, appropriately arranged on the circumference of the head, compensate unbalance of the ginding wheel. VibroDAQ 4 software, after performing test measurement, calculates the angular positions of the masses and presents the result in graphic and text mode. Balancing of grinding wheels directly on the grinding machine, using the VibroDAQ 4 balancer, is a very fast, convenient and effective method which eliminate vibrations caused by umbalance or micro misaligment of grinding wheel on the spindle of the grinder.