IC programmers Uprog ICP:
key features
Uprog ICP - new, flexible and powerful ic programmer designed for in-circuit programming tasks. Powered through USB, Uprog ICP does not require external power supplier and supports wide range of integrated circuits: microcontrollers (8051, PIC, AVR, MSP430, ARM, ST72, etc.), serial EEPROMs & flash (I2C, SPI, Microwire, 1-wire, etc.), CPLD & FPGA. Target device can be powered by the programmer (5V down to 1.8V), programming voltage up to 14V can be also provided.
Thanks to USB 2.0 interface and specialized microprocessor we achived short programming times close to vendor's maximum ratings. Uprog is able to working in High Speed and Full Speed modes.
New software for Windows 2000 and newer systems was designed to intuitive operation. It supports many programmers simultaneously, so several programmers may be connected to the PC in order to increase efficiency of whole system.
Key features
Designed to in-circuit programming tasks

USB interface - USB 2.0 (HighSpeed and FullSpeed) and USB 1.1 compatible
USB powered

Short programming times thanks specialized FPGA based microprocessor (20 ns cycle)

Pin contact check feature

Ulogic - Uprog based logic analyzer with pattern generator feature (option)

Multi color status LEDs: power, busy, error, good

Software for Windows 2000/XP/Vista/Win7/Win8 (Win 32-bits and 64-bits) supports many independent programmers simultaneously

Compact case: 110mm x 70mm x 25mm

Additional board with ZIF socket - Uprog ICP Programming Socket (option)

Data versioning system
Uprog2 software allows to create a project that contains several different data sets for each of programmed device. It allows to freely manage programmable hardware. To the data set can be attached description that can describe various important things, like for example hardware version. Required data set can be selected by user during programming. This option is also useful for example to compare data, when reading the contents of various already programmed devices.
In-circuit programming, ICP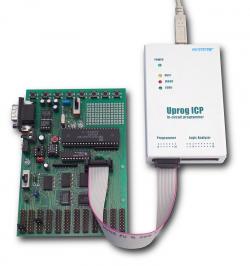 Uprog ICP - in-circuit programming
Uprog ICP has Build-in interface for in-circuit programming, so as to be able to program chips working via SPI, I2C, BDM, JTAG, 1 WIRE, 3 WIRE and others. Serial programming interface was designed to allow to archive maximum data speed transfer and allows to adjust signal voltage level for any technology.
Serial Programming Adapter assure:


adaptation of voltage levels (1.2V - 5V)

fast data transfer

flexible connection between programmer and programmed device

posibility to connect VPP, VCC, GND, CLK, and 6 universal IO pins.


ICP allows to be pin-checked, so as to be able to keep good contacts with programmed chip.
Ulogic - digital signal analyser (option)
Main features:

16 input channels

Maximum sampling rate: 200MHz (1)

Buffer length: 64K x 16 or 256K x 16

Short data transfer time

External clock input

Flexible trigger settings: edge, level (pattern) or combination of edge and/or pattern

Pre-trigger and Post-trigger buffer

Capture delay and edge counter feature

Input impedance: 100kΩ

Sampling booster - the area near Trigger may be sampled with double rate

Serial protocol interpreter: RS-232, SPI*, I2C*, CAN*, 1-wire* (* - available soon)

Mnemonics code analyser for microprocessors

Possibility of signal comparing (three independent buffers)

Pattern genetrator



Notes:
(1) Sampling rate available in limited buffer area (12K samples near cursor T) when Booster is enabled.

Ulogic, the Uprog based logic analyzer, makes the programmer an excelent measurement tool. Simply connect probes to the connector at front panel, run software and enjoy capturing the data.




Ulogic - technical parameters
| | |
| --- | --- |
| Techical parameters | Specyfication |
| Sampling rates | 200MHz (1), 100MHz, 50MHz, 40MHz (1), 20MHz, 10MHz, 5MHz, 4MHz (1), 2MHz, 1MHz, 500kHz, 400kHz (1), 200kHz, 100kHz, 50kHz, 40kHz (1), 20kHz, 10kHz, 5kHz, 4kHz (1), 2kHz, 1kHz, 500Hz, 400Hz (1), 200Hz |
| Digital input | 16 channels, TTL and low voltage levels |
| Buffer length | Adjustable size: 16384, 32768, 65536, 131072 (2), 262144 (2) samples |
| Trigger settings | Edge - rising or falling edge, Edge, skip N - edge counter, Pattern - specified pattern, Edge and (or) Pattern - combinations of edge and pattern, Force - trigger can be also forced by the user |
| Treshold level for digital signals | Supported standards: 5V (TTL), 3.3V, 2.5V, 1.8V |
| Capture Delay | A capture delay is the delay between trigger occurrence and data aquisition |
| Pre/Post Trigger buffer | Define how much of the sampling-buffer will be used to store data before the trigger |
| External clock input | External clock source may be used for sampling. Max. clock frequency 50MHz |
| Software | The easy to use and flexible software displays captured data. Any number of channels can be displayed, the name of any channel can be changed. Three cursors are available for time/frequency measurements. Zoom options, jump to cursor buttons and scrollbar in connection with cursors make data analysing very easy |
Notes:
(1) Sampling rate available in limited buffer area (12K samples near cursor T) when Booster is enabled.
(2) Available after memory expansion.
Pattern Generator
Pattern generator is a tool designed for developing and testing of digital equipment. Thanks to user friendly pattern editor user can define any sequence of 16 digital signals and apply them to device's digital intetrface. Generated patterns are fully compliant with general standards of digital signals. Exept possibility of pattern definition user can change voltage level of output signals.

Main features:

16 output channels

generation rates from 100MHz (state changes every 10ns) down to 200Hz

maximum buffer length: 64K samples (optionally 256K).

adjustable buffer length from 1 to maximal length

possibility of save defined signals for further use

available work modes:
- Auto - generation of defined signals,
- Repeat - cyclic generation of signals after trigger
- Single - single generation of signals after trigger

adjustable voltage level of output: 1.8V, 2.5V, 3.3V, 5V (TTL).

user friendly pattern editor.

Uprog ICP Programming Socket (opcja)
Uprog ICP programmer can be optionally equipped with additional board with ZIF socket to simplify programming devices in DIL package (or in other packages - using proper adapter together with the board). User can connect necessary signals coming from the programmer to the respective legs of the device.